Ready To Unleash Your Inner Artist; Tap Into Your Creativity On-Demand
and Capture Your Day-to-Day Travels and Adventures?


Create A One-of-a-Kind Keepsake That You'll Be Proud To Enjoy For Years To Come?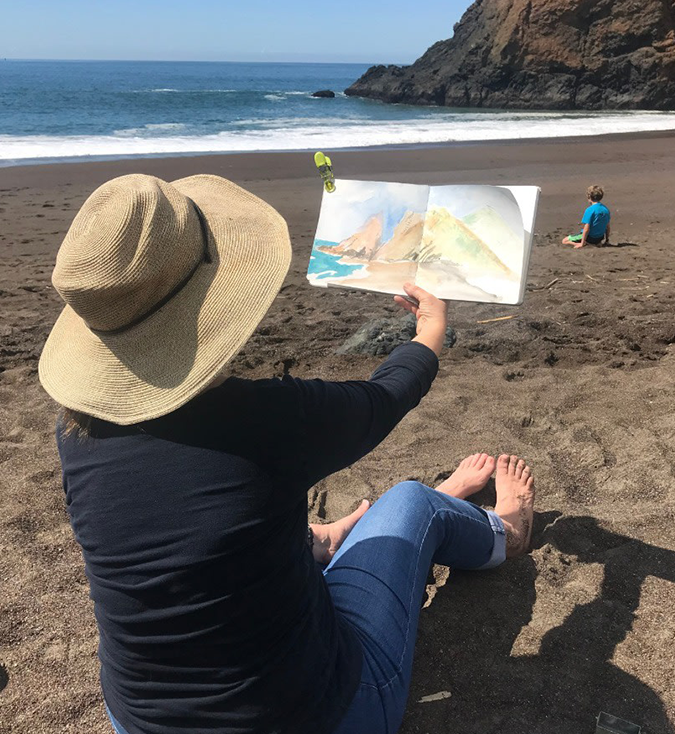 Does modern life feel so busy that you never have time to slow down and fully appreciate the moment?
It's easy to get sucked into being a passenger along for the ride, rather than intentionally creating a life full of fun and adventure. Even worse is to realize that without meaning to, you're overlooking all the best moments of day-to-day life. 
When you make time to go out, whether it's a walk in the local park, a road trip to somewhere you've always wanted to visit, you try to capture your memories in a meaningful way. Unfortunately, the results rarely feel as vibrant as you'd hoped they would. 
Like most people, if you see something that interests you... you snap a few pictures on your smart phone. 
But when family and friends ask: 'Hey, how was your trip?' and you start to scroll through your camera roll...you notice that without all the engaging stories that go with them, the pictures feel dull and the details about them have become hard to recall.
In fact, your photos often feel so impersonal they could just as well have been taken by anyone...because they don't do YOUR special memories justice. What's missing are the sights, sounds, personalities and views which made it memorable for you.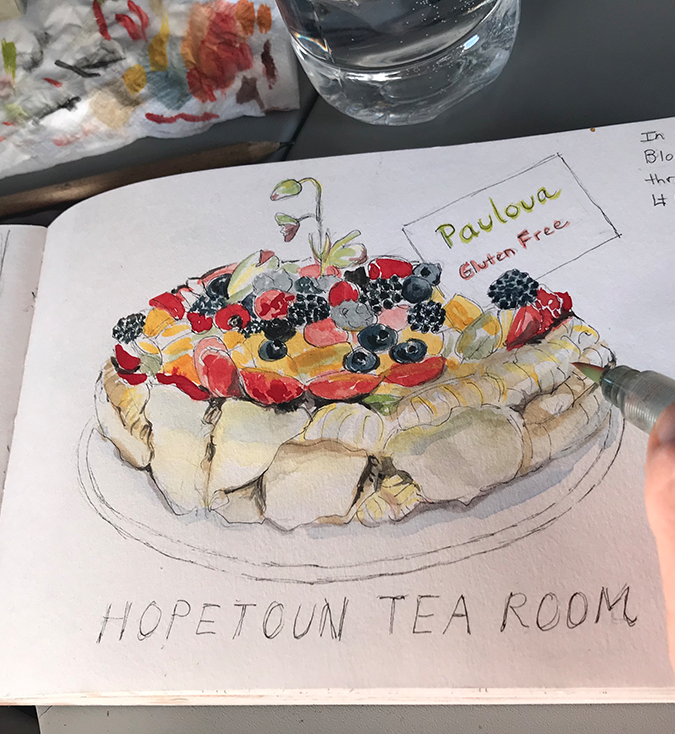 You wish you could be more creative in the way you capture trips and experiences...something that feels more engaging than faded memories in a dusty photo album. Or worse, a collection of digital photos, long-forgotten, on the old broken phone you don't use anymore.
A lifelong artist with a passion for teaching art. Throughout my career, I've been fortunate to have studied at several prestigious art schools across the US. I was also a commissioned artist and co-founder of a successful commercial photography studio.  After the photography business, I enjoyed many years as the Head Art Teacher in Mill Valley, CA.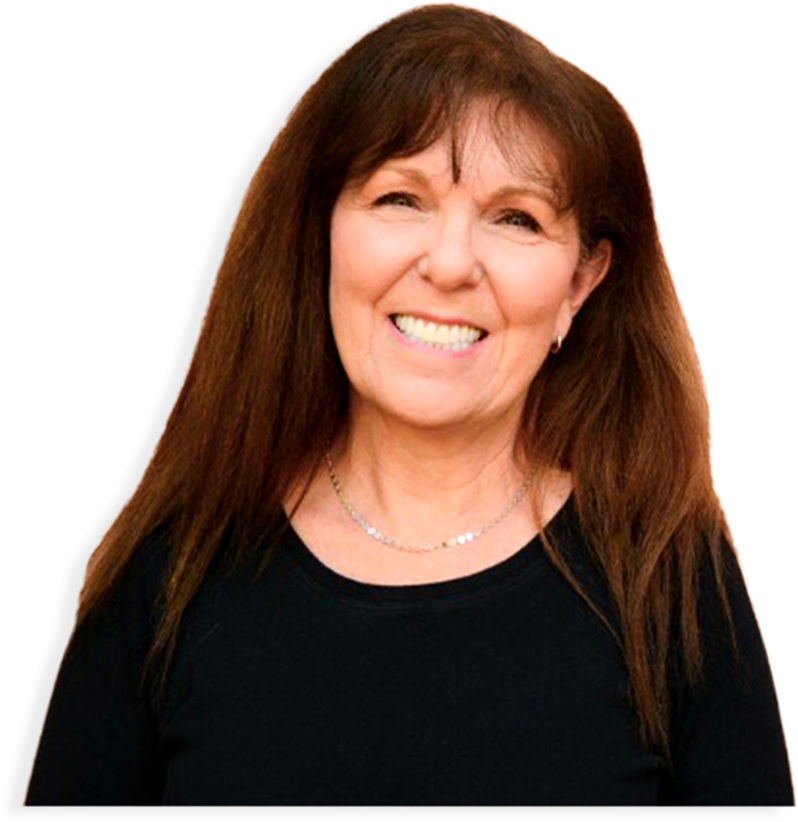 I'm an avid traveler and love nothing more than immersing myself in the sights and sounds around me...from my backyard and neighborhood to unique cultures around the world! 
It was on one of these trips that I had my big AH-HA moment about art journaling.  Using art and journaling together to capture the special memories of my many trips – both at home and abroad - has always been rewarding to me.  
Each new trip would start with the thrill of selecting a new sketchbook and the excited anticipation of the memories that I would be capturing between those smooth blank pages. 
I noticed a common pattern of events...
I would be out and about, maybe at a cafe sketching and people would edge closer to watch, before saying: "I would LOVE to be able to do that!" Your personal journal is such a great keepsake to capture your memories in.  
When I got chatting with them, I quickly realized that although people were saying they wanted to create art journals like mine, they didn't feel they had the skills nor the confidence to do so. 
When I dug a little deeper, I noticed they all shared the same worries and frustrations that were holding them back.
Maybe you can relate to some of these too?
Thinking you're not a 'good enough' artist to be able to capture the experience on paper, and that you'll be disappointed with your efforts
Not knowing what supplies you need, especially for drawing when you're out and about
Having no idea about which aspects of a scene you should focus on whether you should go broad or focused, black and white or color, include figures or not
Worrying about how much time it will take you to complete each piece, and that you'll either spoil the experience by rushing or end up with a journal that looks half-finished
Comparing yourself with others, or feeling fearful about what other people might think, so it takes the shine off wanting to express your creativity
Not knowing where to start nor having a plan to follow. Wondering if you'll kick yourself for not capturing the best moments the way you wanted to 
SADLY, most people never get beyond wishing they could be more creative than just taking a few photos...
because they lack the confidence, inspiration and 'how-to' knowledge to take the plunge...
My Art Journaling Course will eliminate all of these obstacles.
If you've ever felt the same way too, it means you're missing out on the amazing opportunity to add 

a whole new creative dimension to your life.



I will teach you how to: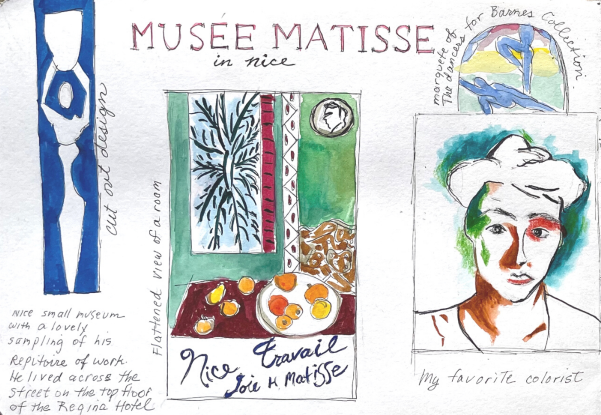 Capture the whole delicious experience of your trips -
whether they're on your doorstep or further afield - include your emotions and stories in a way that photos alone can never do.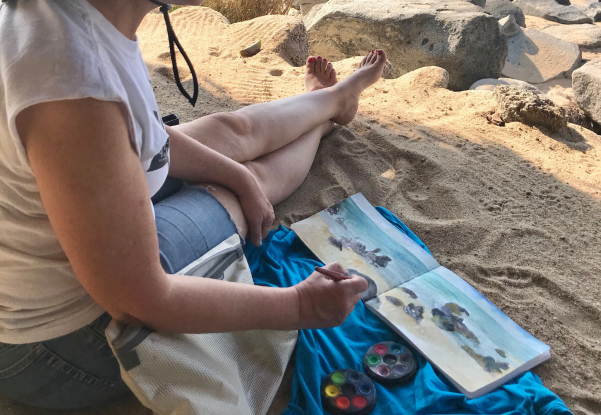 Having a uniquely personal record of the highlights of your travel adventures -
that's meaningful to you because it instantly whisks you back to the experience, so you can relive all those special memories whenever you like.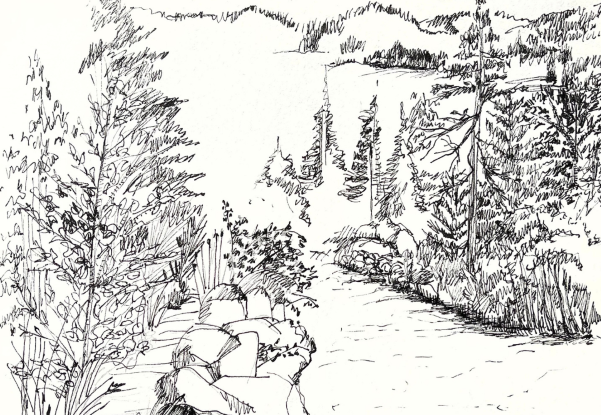 You will learn to develop your drawing, painting and journaling skills
so you can tap into your creativity 'on-demand'

regardless of whether you're a beginner or an experienced artist.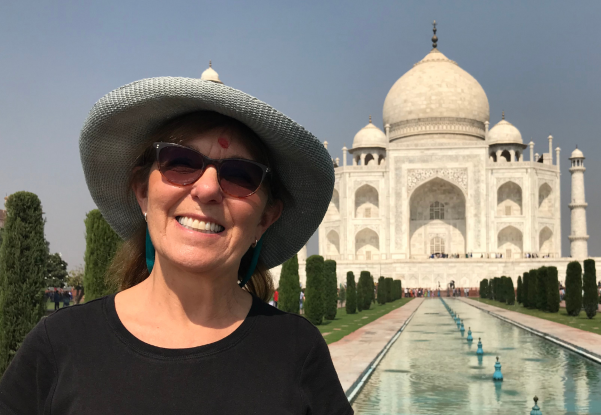 Journaling will enhance and record your travel experiences. Rather than just being a fleeting observer
of the sights and sounds around you, you can relax and connect more deeply with where you are.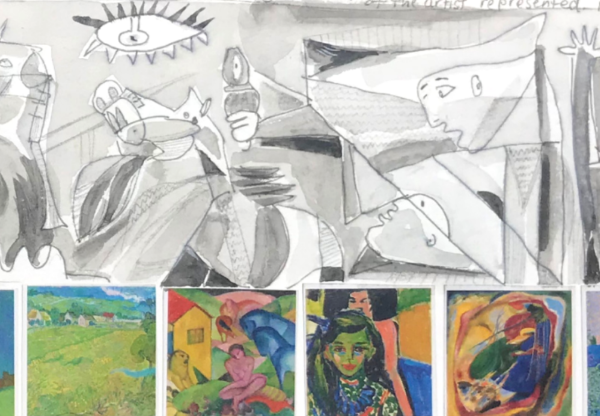 Create a personal legacy of art and memories full of details and feelings that you and your family will treasure for years
to come.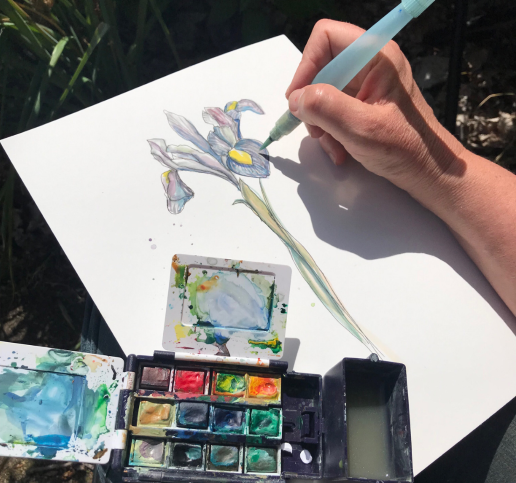 This sounds much more fulfilling, right?
The good news is, regardless of your skill level, my journaling class will help you develop the skill necessary to create a journal you will be proud of. My class will also elevate your existing art skills to a new level.  
From my many years of teaching art and from sharing my expertise with fellow travelers I know that even complete beginners can create beautiful art journals to capture their memories, with the right guidance.  
People with existing art skills will noticeably benefit from the tips and tricks I bring to this course. 
Imagine the new level of excitement you'll feel about any trips and days out you're planning, knowing YOU will create a stunningly unique personal art journal each time.  
Rather than just having a lackluster collection of photos and muddled recollections...


With Journaling you'll enjoy a rewarding, creative experience. Plus, you'll have a treasure trove of memories you can relive for years to come.
This course will enable you to create a Travel Journal you'll be proud of. and that friends and family will look forward to seeing. Instead of seeing other people sketching and wishing you could do it.... you'll be the creative artist other people glance at, wishing they had your skills.
When family and friends ask: "How was your trip?" they'll marvel at the unique way you've captured the fascinating details of your adventure, clamoring to know how they can do the same.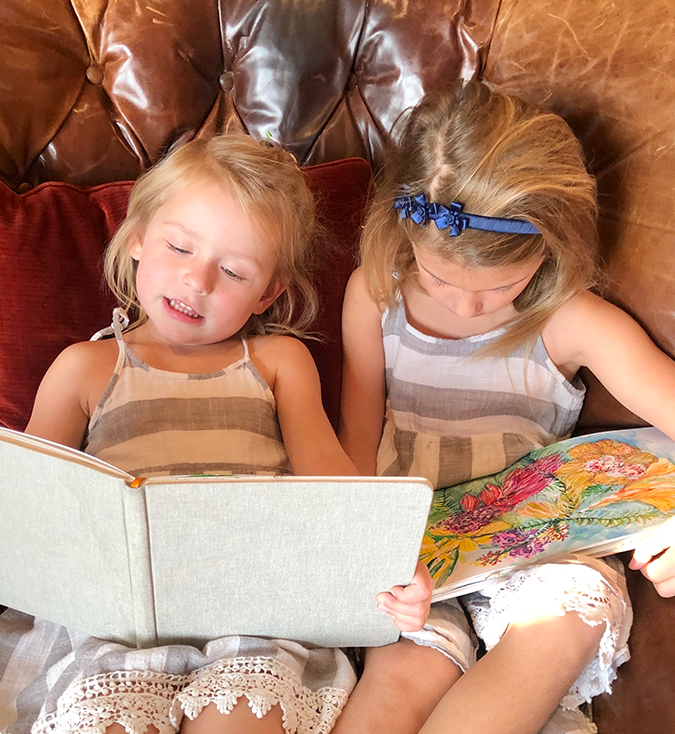 My journaling course will be the difference between thinking you can't do something and being able to do it. My nearly 30 years of teaching has repeatedly proven to me that I can teach these skills to nearly anyone. 
 Taking only photos to capture your memories... comes in a distant second place to creating your own personal art journal. 
Being able to confidently and creatively make your own stunning art journals 

is as simple as having...



A proven process to follow
A fun, supportive environment to master your new skills
Direct access to a professional artist who will guide you every step of the way
Introducing
THE 6-STEP ART JOURNALING COURSE
FOR CURIOUS CREATIVES
Your Transformational Toolkit Will Unleash Your Inner Artist, 
Tap Into Your Creativity On-Demand, And Create A Beautiful, 
Unique Keepsake Art Journal That Enriches ALL Your Travels 
and Adventures Near And Far


This is my proven system to walk you through step-by-step on how to prepare, plan and create stunning illustrations to capture your unique memories and bring them alive in your sketchbook.
As someone with a great sense of adventure, you'll love to see life through fresh eyes and bring a sense of curiosity to your day-to-day experiences.


SO IF YOU'RE...
An artist who wants to explore fresh new ways of using your expertise
Someone who is completely new to art, who enjoys learning and practicing new artistic skills
A travel-enthusiast who is open to new experiences to enhance your travel adventures, whether they're near or far
A writer who wants to add a new artistic dimension to complement your writing
Looking for a new hobby and an enjoyable way to record your surroundings, from your backyard to exotic locations around the world


...THIS IS FOR YOU
.
Art journaling is the perfect way to slow down, appreciate the rich details of life and capture your memories in a completely unique way for...
Road trips
Walks to the local park
Visits to museums and historic sites
Capturing nature around you
Documenting the seasons, whether in your garden or further afield
Adding an artistic dimension to outdoor hobbies
Recording family get-togethers
Vacations and travel adventures, at home and overseas
...and more...the only limit is your imagination!
Here's What's Inside


There are 6 easy-to-follow video learning modules, PLUS worksheets, guides, and resources to support you from Day One.
The videos are detailed over-my-shoulder tutorials, specifically designed so you can watch what I'm doing, pause the video, and then apply what you're learning immediately.
The best part is that unlike a live classroom situation where you can feel like you're falling behind if you miss a point...with these videos you can learn at the PERFECT pace for you and watch them as many times as you want.


You also don't need to wait since you'll be getting all 6 modules IMMEDIATELY.
All too often people have their creativity crushed by a careless comment,


or by being taught at a level that overlooks the fundamentals, so they quickly feel out of their depth.
Because I have the benefit of having been a classroom teacher for many years, I know how to help you get the BEST results, no matter what skill level you're starting from. I ensure that art is fun and accessible and I like to infuse a sense of curiosity and playfulness into how you'll learn. 
The key to starting the right way with my proven method of art journaling is to get the right foundations in place. I'll guide you through the materials you need and how to see and appreciate the beauty all around you, so you'll never be short of inspiration.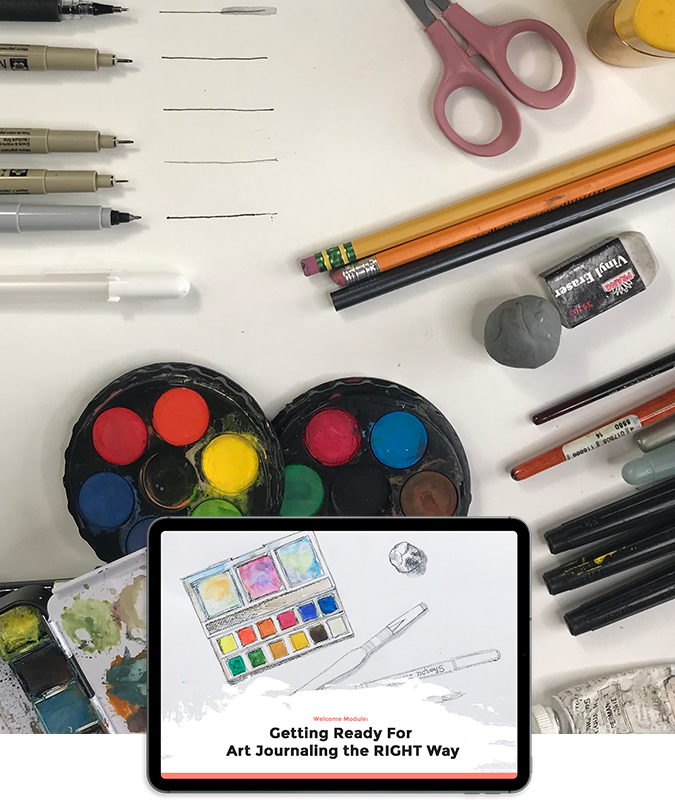 In this introductory module, we'll dive into:
What an art journal is (and isn't)
My simple guide to start planning what you'd like to include in your art journal--in a way that gives you a framework, but doesn't restrict your creativity and spontaneity
What materials you need to gather for art journaling at home and on the go--with an explanation of why I use each item
A look through some of my art journals--

to fire up your creativity, and give you my 'artist's insights' of why I included certain pieces to help you create the memorable art journal you desire.

My best strategies to overcome any limiting beliefs about your artistic ability--so you can tap your creativity, regardless of your current skill level
You'll also have these tools and exercises to get your foundations set up the right way:
Tools:
Art Journal Materials List - My favorite supplies, with links
Inspiration Near and Far - A reference sheet to spark ideas, to always be inspired
The Appreciation Amplifier - A guide on how to engage your senses to notice and appreciate the small details around you, and capture them in your journal
Exercises:
Gathering the materials you need so you're ready to start putting pencil to paper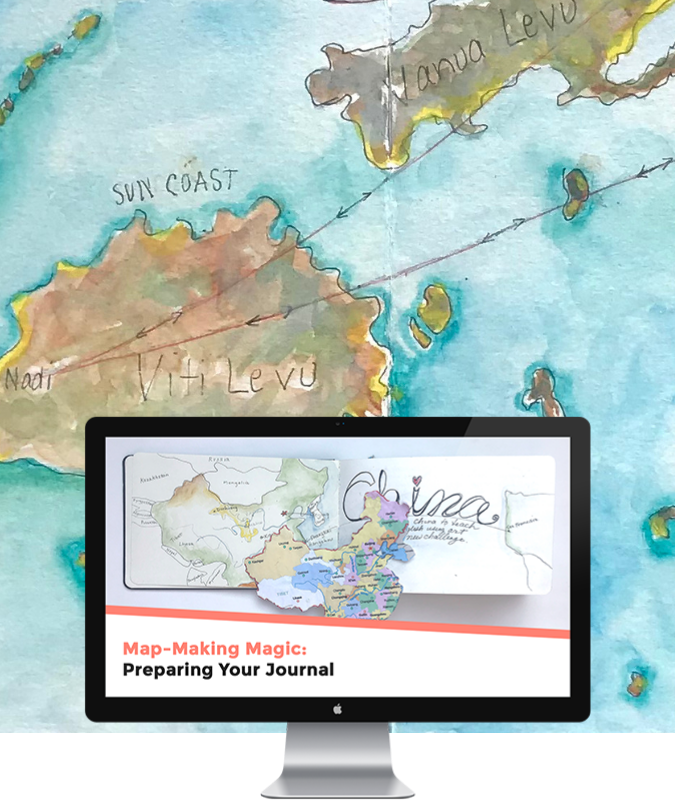 All the best journeys start with a map, even if it's of your local neighborhood,


This is what we'll focus on in this first exciting step of bringing your art journal to life.
In this module, you'll discover why maps infuse your art with a sense of place, how to effortlessly include maps without being overwhelmed by detail and how to create a show-stopping title page and functional pockets.
In this module, you'll discover:


How to use maps in your journal to create a sense of place through your art
When is the best time to start map-making (hint – it's not when you think)--​and how to choose a map that suits the tone of your artistic personality
My two favorite ways to create maps in your journal--without becoming overwhelmed by detail
Why sizing matters--and my simple steps to create your map in the right scale
How to get decorative with your letters to create an eye-catching title page
How to create pockets in your art journal to collect images and information--for a more immersive creation
How to illustrate your packing list and what you're taking on your trip
The key details to add to your journal introduction--so it starts to become uniquely yours
You'll also have these tools and exercises for your MAP-MAKING MAGIC:


Tools:
Map Magic - Examples of different maps and map styles you can use
Transfer Techniques - A step-by-step guide for tracing and transferring a map into your journal
Creative Lettering Fundamentals - Examples of creative, decorative lettering for inspiration
Pocket Creation - Simple steps for adding pockets to your journal
Exercises:
Creating the first map and title page in your journal
Adding your packing list to your journal with a photo or illustration
Creating a pocket for collectibles
The often-overlooked secret to becoming a confident artist is getting the basics right.
Too often, people want to rush ahead and then wonder why they feel disappointed with their finished product.  
In this module, you'll master the basic building-blocks of lines and color. You'll have the perfect foundations to grow from and everything you need to start doing drawings that will be the envy of your friends.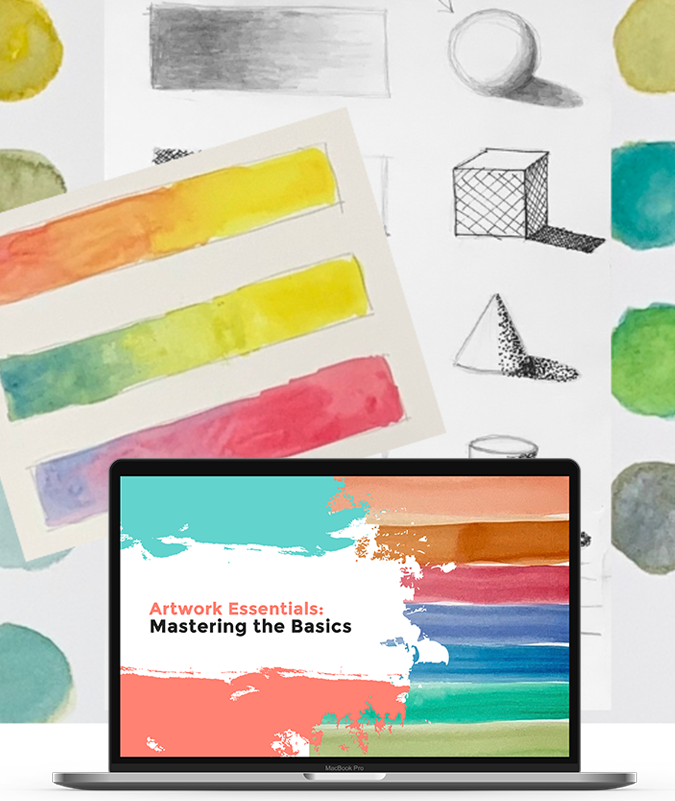 I'll walk you through:


Why lines are the foundation of all your drawings-and how to create variety in your line quality to instantly add interest
Mastering the skill of making shapes look three-dimensional--to add depth and drama to your pictures
Three different ways the pros do shading--and my simple breakdown of how you can do it too
Color fundamentals--how to mix colors, plus how you can achieve distinctly different looks with color
You'll also have these tools and exercises for MASTERING THE BASICS:


Tools:
The Color Wheel - To help you understand how to mix and blend colors that make your pictures pop
The Shape Creator - Examples of how to draw many different objects from a handful of basic shapes
Line Guide -​Examples of line drawings, line quality, and how to add more character to your drawing using lines
Color Chart Creation -​A guide to create your own color chart
Basic Shapes, Tone and Value Tool - Example of creating grayscale using different drawing techniques
Photo Reference Tool - Different objects to practice drawing, and things you'd find while you're traveling
Exercises:
Drawing shaded shapes
Drawing objects from basic shapes
Color mixing – getting comfortable experimenting with color
Practice using your brush and water to create a dry or wet brush technique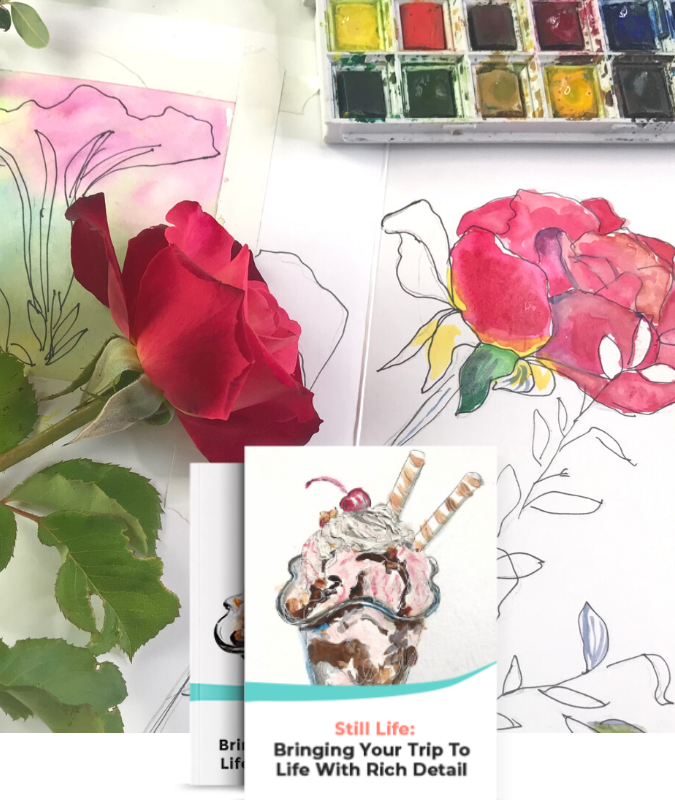 Many people think that outdoor art is only about capturing sweeping landscapes and dramatic views.
The reality is often that the smaller objects and details make the most interesting memories. This is where still life comes into its own.
In this module, you'll discover how to capture smaller objects and details, find delight in everyday items, and add a deeper level of insights when you draw the world around you. 
You'll dig into:


Why still life is the key to slowing down and enjoying the easy-to-miss moments of your vacation
How to capture smaller objects and details to create exciting peeks into day-to-day life
How to see relationships of shapes, lines, and angles--so you always know how to compose an eye-catching drawing
Perspective fundamentals--how to use perspective the right way in your drawings
How to choose which details of a scene to draw when you're overwhelmed by choices
Knowing what to color and what not to color to create a focal point in your painting
How to use your phone to see value in your drawing--to create the right emphasis, drama, and interest
You'll also have these tools and exercises to master STILL-LIFE:


Tools:
Still-Life Reference -​Examples of flowers, food, cups, and small objects
Cropping Made Easy - A video walkthrough of how to crop using your smartphone, plus how to use a slide mount or equivalent to determine your crop for a better composition
Phone Companion For Drawing - How to work with your phone to do a drawing
Exercises:
Angles mastery - drawing a coffee cup from different angles
Drawing flowers to create a double-page spread in a designed composition
Drawing an everyday object of your choice
Drawing an ice cream sundae with me while I demonstrate
How to do a contour drawing from a flower demonstration
This is where you get to really capture the essence of your location


Learn to use your own creative flair to bring the BIG views into your journal. 
Whether it's a road trip to the mountains, seascapes, rolling countryside, sweeping vistas or the view from your porch...you'll discover how to distill what you see. You'll create evocative landscape drawings that take you back there in an instant.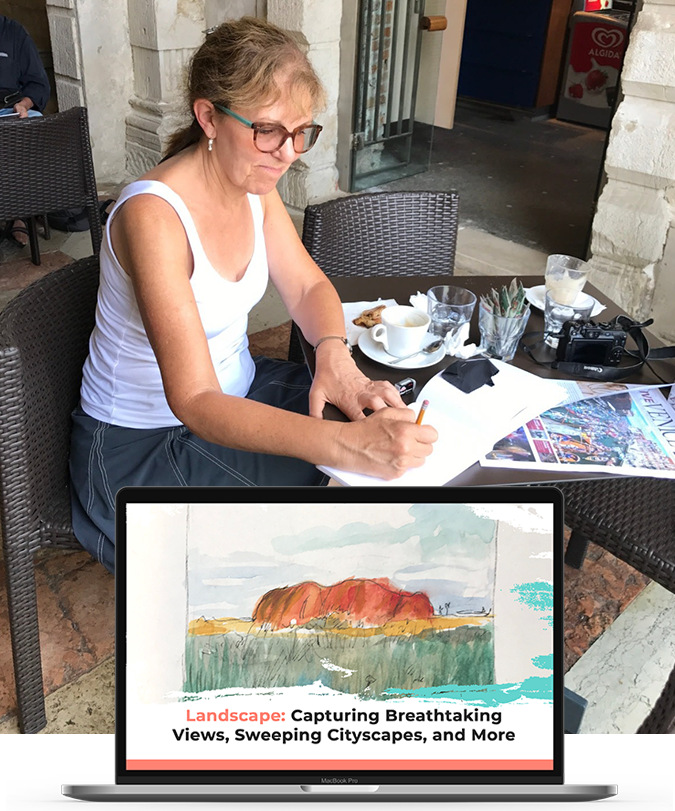 In this module, I'll take you step by step through:


Why landscape drawing starts with a thumbnail sketch--and how to quickly master this essential skill
The simple tool I recommend to narrow your focus onto the most interesting parts of the landscape
Perspective made easy--my insider's tips on getting perspective right for landscapes, so you never feel out of your depth with complex scenes
How to use your smart phone to enhance your landscape drawing
Why simplicity is key if you want to avoid becoming overwhelmed--and how to simplify your landscapes without losing key details
How to add buildings to your landscapes


You'll also have these tools and exercises to master DRAWING LANDSCAPES:


Tools:
Grid Magic

 - How to make a plastic grid tool and use an app on your phone to determine your composition, and how to maintain the right proportions when copying freehand into your journal

Simple Guide to Perspective - An illustrated guide explaining perspective
Landscape Styles​- An illustrated guide with examples to fuel ideas for your journal
Thumbnail Sketch Examples - A photo reference of different styles of thumbnails in color and black and white
Drawing On Location Unlocked - A checklist of what to consider when choosing a location
Exercises:
Draw thumbnail sketches
Draw one landscape in pencil and one in color
Draw a landscape with buildings
Explore various landscape styles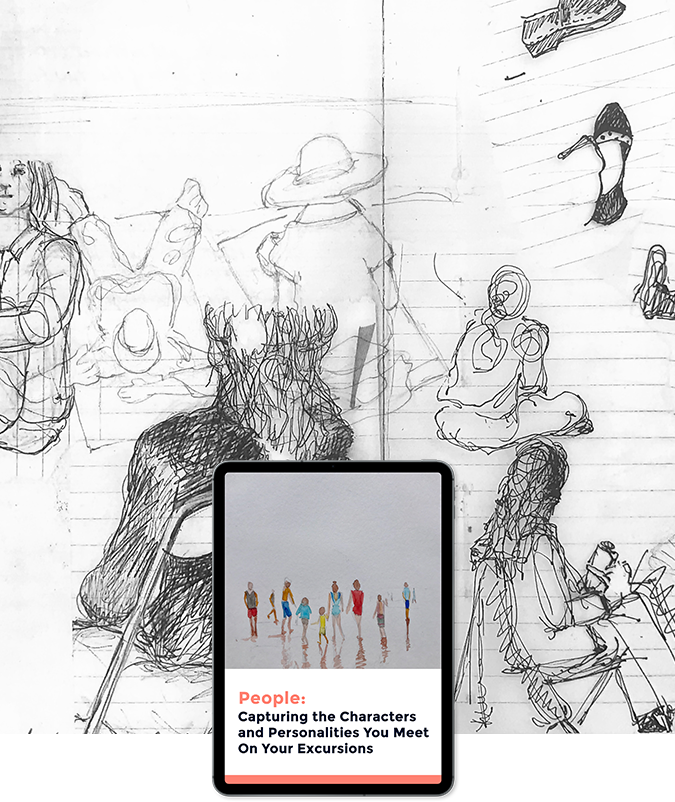 Drawing people as part of your art journaling is what puts the personality into your pictures.
Most of us enjoy people-watching, so this is the perfect opportunity to bring the essence of that into your art journal. 
Some of my students feel nervous about this part of learning art journaling because they think drawing people is too hard. 
The good news is that I break it down step-by-step and make drawing people super simple! In this module, you'll master how to confidently add people to your drawings, and enjoy an added layer of detail, to capture your special memories more completely.  
You'll discover:


Why simple is usually BETTER when it comes to drawing people for art journaling
My easy-to-follow guide for capturing expressions and gestures of your subjects
How adding a person into your picture can help with scale and perspective, enhancing your final composition
How to decide what detail to include and what to leave out
The most common poses--and how to master them (plus poses to avoid)
Next steps in perspective--understanding your eyeline and how to adapt it when you are sitting or standing
You'll also have these tools and exercises to help you confidently DRAW PEOPLE:


Tools:
Different Styles and Poses​- Examples of different poses and styles to practice
Perspective and Eyeline Guide - A reference guide explaining perspective, where to place your people and when it's OK to break the rules
Exercises:
Drawing people to create a double-page spread of different styles of people in a range of poses
Drawing people in a landscape with or without buildings
Drawing people in perspective
In this final module, you'll be adding all the final personal touches
Learn to make your art journal more memorable, and entirely "your own creation", so it's extraordinary.
This is where your keepsake goes far beyond just being a sketchbook or diary and you get to create a truly memorable masterpiece that's packed with unique details.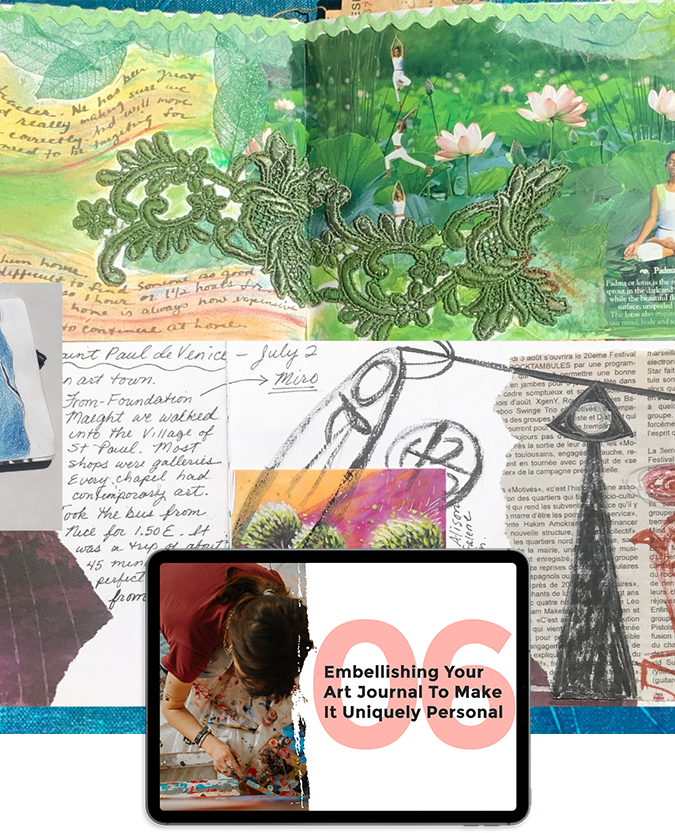 You'll take a deep dive into:


The best collage techniques to use for added interest and uniqueness, plus how to successfully combine drawing and painting with collage
Ideas for favorite travel collectibles for embellishing your journal--where to find them and how to display them in fun and interesting ways
How to use photographs in a unique way to add interest to your pages
How to creatively add more pages and tags
How to display your writing in a way that makes it integral to your artwork rather than being a separate commentary
You'll also have these tools and exercises for ENHANCING YOUR ART JOURNAL WITH 
BEAUTIFUL EMBELLISHMENTS:




Tools:
Collectables and Embellishments - A list of suggestions on what to collect and why
Examples of Collaged Pages

 - A photo reference of collaged pages

Page Layout Considerations

 - A guide showing different styles and layouts

Painting Beyond a Photo

 - A guide on how to blend photos and drawings into your collage pages 
Exercises:
Adding collaged items to your pages with paint, markers, and writing, to make your journal more unique
Incorporating creatively cut pages to add artistic accents
Creating fun hiding places for drawings and secrets
Drawing on scraps of paper and adding them as pages you can flip through
Cutting a photograph in half and drawing or painting beyond the edge
PLUS! These Helpful Bonuses To Accelerate Your Transformation To Becoming A Confident and Creative Art Journal Aficionado:
Bonus #1:
Schedule Personal Q&A Calls
Get a chance to get live feedback on your art and personalized advice directly from me, so you'll never feel stuck or overwhelmed.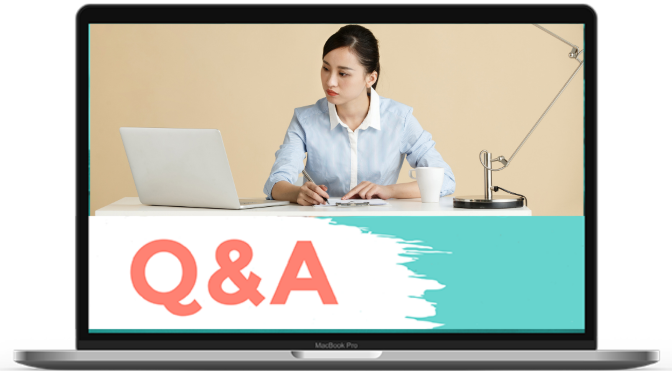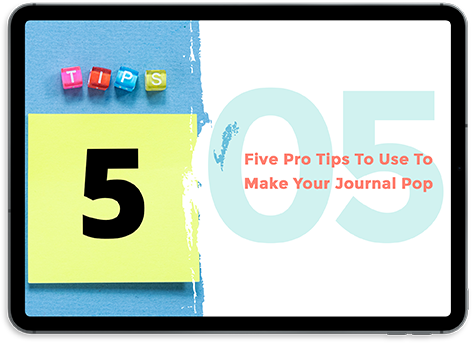 Bonus #2:
Five Pro Tips To Use To Make Your Journal Pop
My best tips and techniques to elevate your Art Journaling from average to stunning.
Bonus #3:
Paper Palette Shortcuts
My insider's secrets on how to make a simple paper palette for easy onsite painting.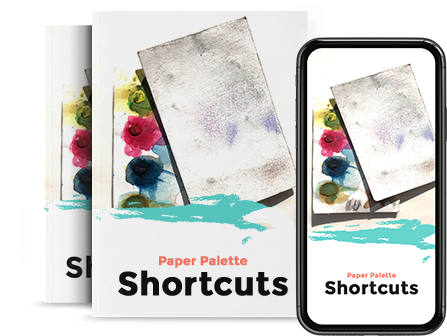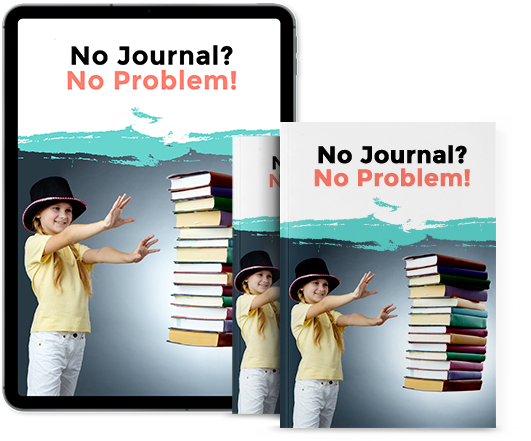 Bonus #4:
No Journal? No Problem!
How to take your creativity up a notch and make a journal from scratch, so you can always art journal, wherever you are.
Ready to To Unleash Your Inner Artist-- 
Tap Into Your Creativity On-Demand--
Create A Beautiful Unique Keepsake Art Journal That Enriches All Your Adventures and Delights You For Years To Come?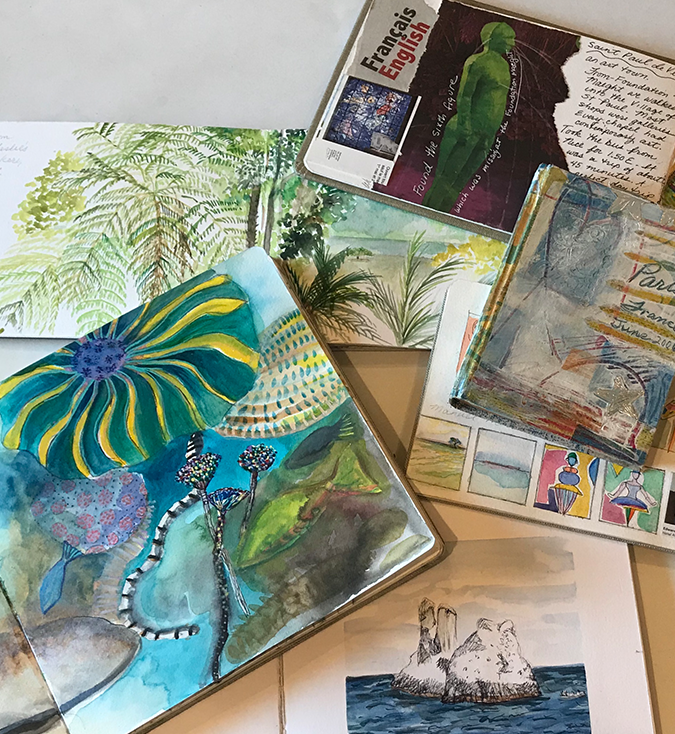 My 6-STEP ART JOURNALING COURSE gives you ALL the essential skills and tools to enjoy this new hobby, in a supportive, fun learning environment.
Don't settle for just photos from your travels to remember and share your adventures with others.
NOW you'll have a stunning art journal, filled with mementos, gorgeous art, and meaningful notes, that's a pleasure to create and will become a TREASURED KEEPSAKE.
Your art journaling adventure starts immediately! As soon as you click the 'Enroll Now' button below, you'll be taken to a secure checkout. 
Your art journaling adventure starts immediately!
As soon as you click the 'Enroll Now' button bellow, you'll be taken to secure checkout.
When you register, you'll receive an email confirming your registration and instructions on how to instantly access all six modules, including the bonuses.
If you have any questions along the way, my team is here to help you get instant access to the content, and ensure you enjoy every aspect of the course. 
Email me at: [email protected]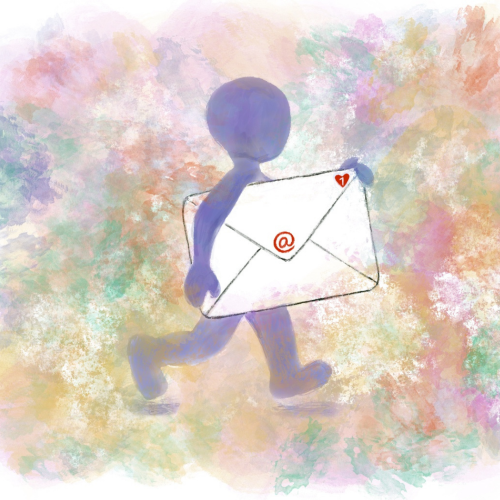 Backed By My Risk-Free Money-Back Guarantee
As an artist, teacher, and enthusiastic traveler, I'm passionate about equipping you with the skills and confidence to create beautiful art and lifelong memories with your very own art journals. I'm your #1 cheerleader on that journey.
I'm fully confident that you'll master the skills and be delighted with your art journaling experience.
If for any reason you are not completely satisfied, please reach out to me and I will happily refund you, 100%, within the first 14 days. 
No questions asked.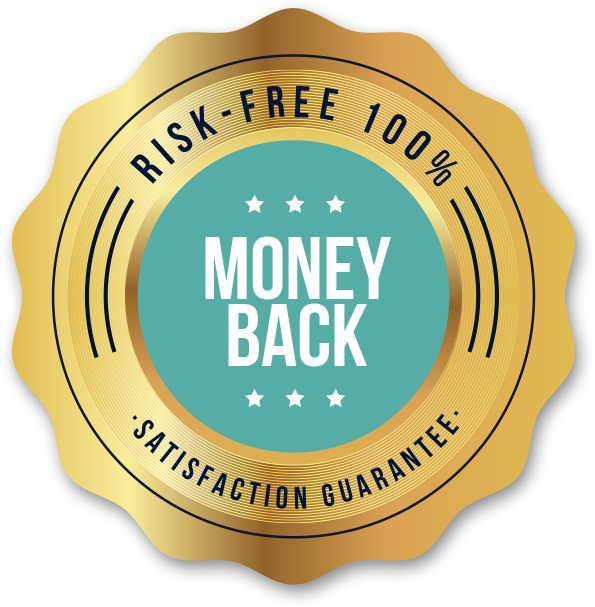 Let's Recap Everything You Get When You Join!
6 easy-to-follow learning sessions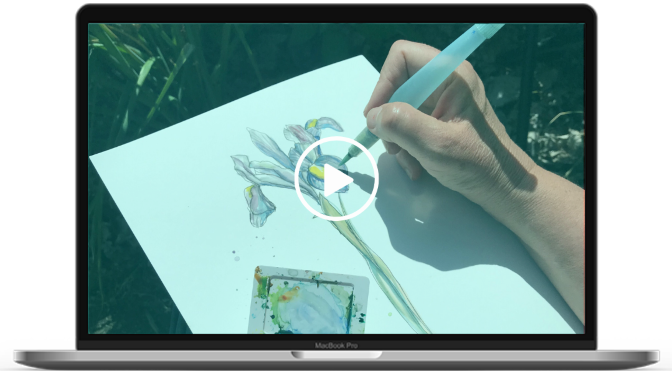 40 videos you can watch any time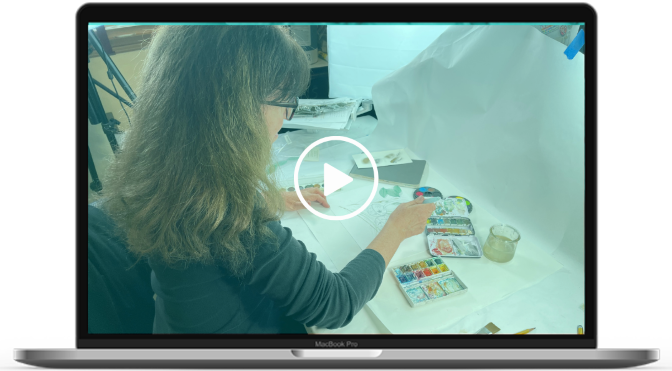 More than 40 tools and exercises to go through
PLUS! These Helpful Bonuses
Bonus #1:
Schedule Personal Q&A Calls
Get a chance to get live feedback on your art and personalized advice directly from me, so you'll never feel stuck or overwhelmed.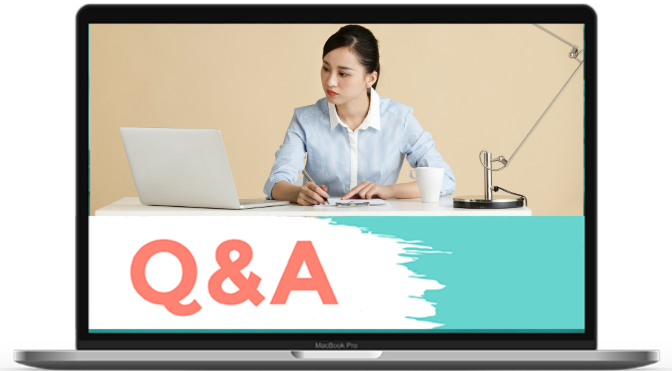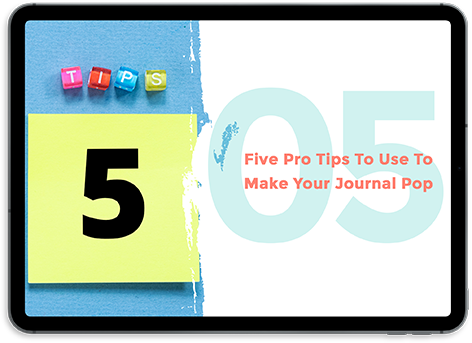 Bonus #2:
Five Pro Tips To Use To Make Your Journal Pop
My best tips and techniques to elevate your Art Journaling from average to stunning.
Bonus #3:
Paper Palette Shortcuts
My insider's secrets on how to make a simple paper palette for easy onsite painting.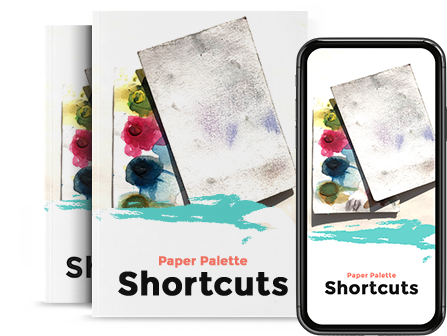 Bonus #4:
No Journal? No Problem!
How to take your creativity up a notch and make a journal from scratch, so you can always art journal, wherever you are.
Kaz Woodall
"I loved what I learned, and I know that my travel experiences will become memories I'll cherish forever."
Debbie's classes taught us how to personalize our travel experiences by drawing and writing in our journals. I have learned many fabulous skills and techniques to make my trips memorable. Debbie's enthusiasm and warmth exude from her while she teaches. She encourages us all to do our best, no matter our starting point. Her skill, expertise, and experience are showcased as she guided us through a range of exciting lessons. I loved what I learned, and I know that my travel experiences will become memories I cherish forever. Thank you, Debbie! I am thrilled you have ramped up my travel experiences several notches!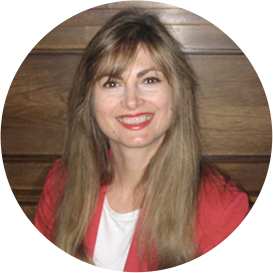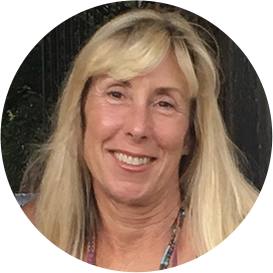 Sue Lattanzio
"I realized you don't have to be an amazing artist to create meaningful and beautiful journal memories...thanks Debbie for sharing your knowledge."
Before I took Debbie's workshop, I was struggling with how to get started with travel journaling & having the right tools to do what I love on a trip -- create memories. She provides you with a comprehensive toolkit, and I realized you don't have to be an amazing artist to create meaningful and beautiful journal memories.
Now that I've taken Debbie's class, I am now focusing on achieving perspective with my journal sketching & improving using a variety of different watercolor techniques to achieve a specific mood and lighting. 
Debbie's class inspired me to collect and use items I collected from my travels for my journals. I thoroughly enjoyed her class which was a lot of fun while learning. Thanks Debbie for sharing your knowledge. Highly recommended!
Frequently Asked Questions:
Q: I'm not naturally artistic and I haven't done drawing since school. Will this course be OK for a 'beginner'?
A: This course is designed to 'meet you where you're at' in terms of skill levels. 
If you're new to art journaling, I'll be covering the basics of drawing in an accessible way, so you can quickly start to see your new skills coming to life, and enjoy your new creations. 
On the flip side, if you're a fairly confident artist already, this course opens up exciting avenues to take your skills up a level and use them in unique new ways. 
Q: I'm new to learning online. How does it work for this art journaling course?
A: With decades of teaching under my belt, in school, and with adult students, I'm used to breaking down art into simple, easy-to-implement steps. 
The beauty of teaching this course to you online is that you can follow along at your own pace. Each video is done in an 'over my shoulder' style, so you'll see exactly HOW to do each technique I'm teaching. You can watch the video, pause it wherever you like, and then apply what you've just seen. You can also go through the videos as many times as you like, rather than seeing something only once. This means you'll never fall behind or feel overwhelmed.  
You also have direct access to me through the comments or schedule a personal Q&A session through my email and get feedback.
Q: How long will I have access to the course content?
A: You'll have forever access to the video modules and you'll be able to download all the supporting tools and resources, so you can use them whenever you like, now and in the future.
The course will be delivered all at once so that you can decide on what to learn and when to go through it.
Q: How do I schedule my Q&A calls?
A: You can schedule your Q&A calls via email (included in the course), or ask through the comment section.
Q: When will I have access to the course materials?
A: When you sign up, you will have instant access to all of the content so that you can decide on what to learn and when to go through it.
Q: I'm a busy person. I'm worried I won't have time to participate in the course effectively.
A: I understand that you're busy and that you also want to create unique memories through your art. That's why each module is broken down into smaller chunks so you can follow along at a pace that suits you, without ever feeling overwhelmed.
Aside from the video content you'll also have all the additional tools and resources needed for the full experience. It's just like being in a live classroom with me, with the added bonus of being able to fit it around your own schedule.
Have a question that isn't answered here? Email me at:
and I'll be happy to answer it for you.
I personally look forward to guiding you through my steps to art journaling so you can achieve all the success you are hoping for.
This course will add fun and memories to your travel adventures.


Debbie Dicker